We love a dress up party at Adept Photo Booths, so we find it hard to contain our excitement when the venue matches the theme perfectly!
An Avid Star Wars fan, the theme was obvious when Dan decided to throw a party for his 40th birthday and no effort was spared to deliver on this theme.
Whilst Dan was the birthday boy, his wife Merridy took on the party planner responsibilities and when she began searching for a Fremantle photo booth hire company, we were the first company that came up.
Young George was the venue which features a roomy function space in its basement. The renovated historic wine cellar fit the setting of the iconic Star Wars Mos Eisley Cantina perfectly providing a great mix of old features and modern accessories to make it a perfect function space.
The team at the Young George were apleasure to work with providing a varied selection of canapé & banquet menus easily tailored to any party's requirements. Do yourself a favour and check this place out if you are planning a function in the Fremantle area.
The brief for the artwork was to reference the Star Wars theme of the party and also acknowledge the birthday boy which inspired our final tag line: "May the 40th be with you". We love the challenge of coming up with creative strip artwork so make sure that you throw us a challenge for your next party! Here is the artwork that we came up with for Dan's 40th birthday: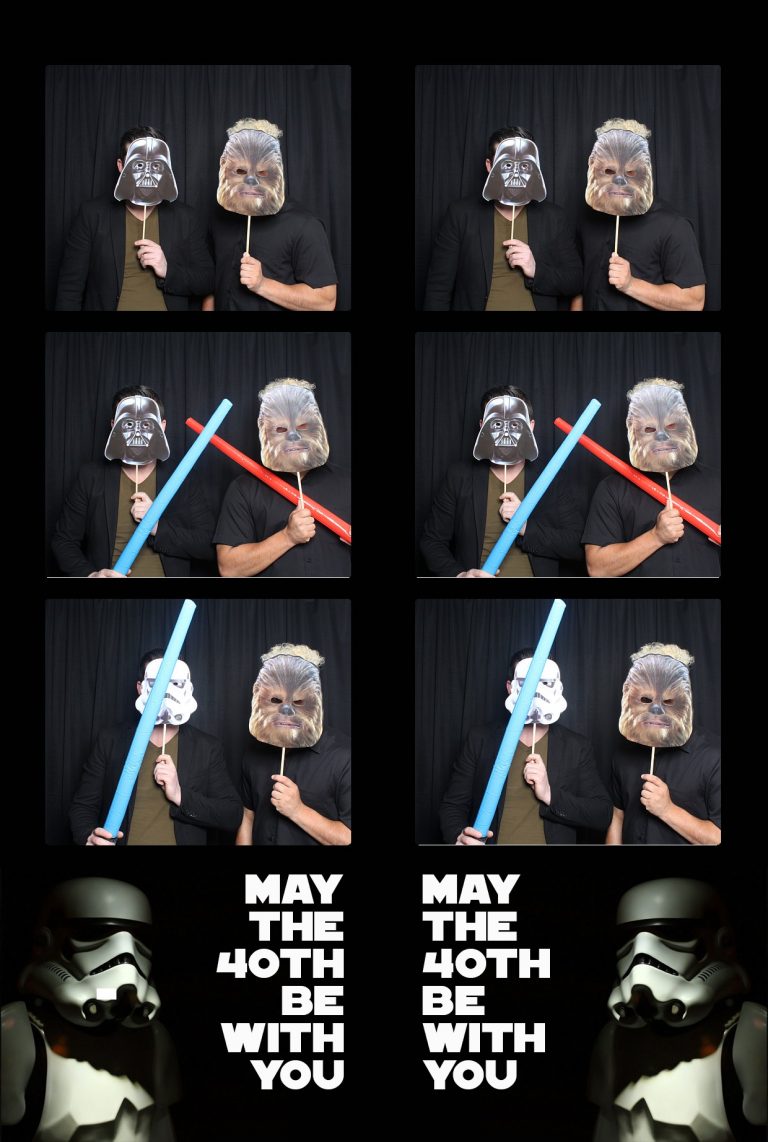 The hosts went all out in providing a wide selection of Star Wars props with printed masks, light sabres, quote speech bubbles and a clothes rack of robes and other star Wars character outfits. Richard was the photobooth host on hand to help guests with their costumes.
Friends and family embraced theme and dressed up for the photo booth. Fremantle's finest were strutting around dressed as Princess Leia, Yoda, Han Solo, Chewbacca and of course, Darth Vadar.
The group had a great time, and at their request, the online photo gallery is password protected so that the fun stays within the close nit group of Family and friends.
Operating throughout Perth, Adept Photo Booths provide extensive Fremantle Photo Booth Hire service working with many venues in the area. Such is our dedication to providing quality Fremantle photo booths, that we are a member of the Fremantle Chamber of Commerce and have been a preferred supplier to The Left Bank since our inception.
For all of you photo booth Fremantle needs, drop us a line for an obligation free quote on a photobooth, GIF Booth or Flower Wall.