On a sunny July day, the Rockingham community came together for the first ever Rockingham Flames Community Family Fun Day at the Mike Barnett Sports Complex.
The event was in support of Ronald McDonald House Charities Perth with a gold coin donation on entry going towards the worthy cause.
The family event was right before the Flames SBL Fixture against Kalamunda with lots of family fun and entertainment including a Bouncing Castles, Face Painting, Petting Zoo, Slot Car Racing, a 3×3 Basketball Competition, Green Screen Photo Booth and a Sausage Sizzle which is always a crowd favourite as well as other activities. Local radio station, Coast F.M., were on site for a live broadcast and to pump out some music.
Rockingham Flames mascot Burnie-Web and players from the senior Rockingham Flames SBL squad were also on hand for photos who always love a photo booth!
'We set out to create a Family Fun day which the whole community could enjoy whilst raising funds for the Ronald McDonald House Charities WA – The club hasn't run an event this big before, We were overwhelmed with the response that we received not only from the community but also our Corporate Partners. It's great that theyembrace our community initiatives like this' – Amy Osmond, Rockingham Flames Operations Officer
As a sponsor of the club, Adept Photo Booths were there with our Green Screen Photo Booth for the kids (and big kids!) got the chance to take a photo of GIF with a couple of the Rockingham Flames players.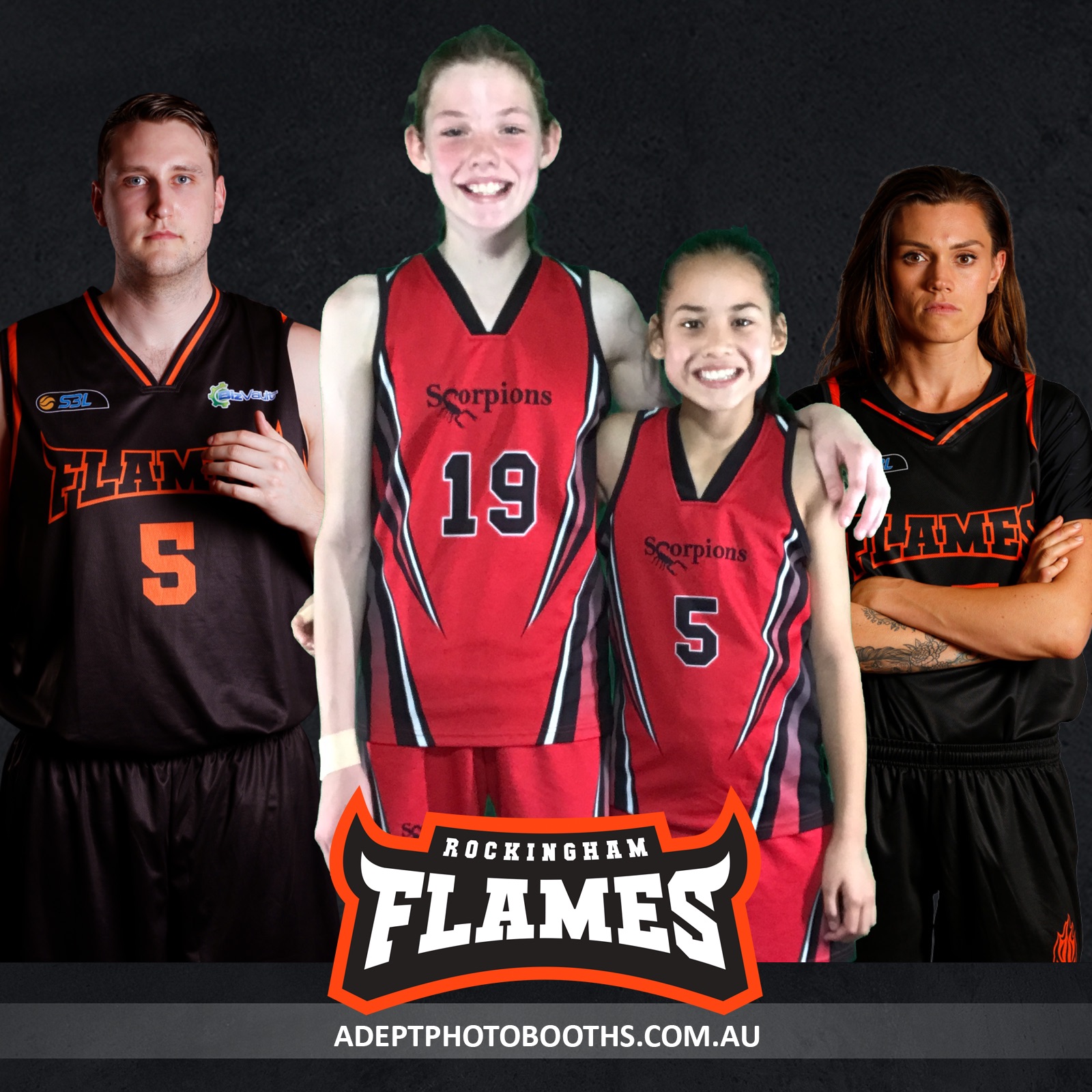 Our Green Screen Photo Booth set up is popular immersive photo experience that allows the user to step inside a Hollywood movie set and be part of the content that they can share rather than simply alongside the action.
You can check out the photo gallery by clicking here.
Other Rockingham Flames Sponsors also rallied around the cause with Class 1 Orthodontics on hand offering discount cards for Flames members along with other giveaways and the Sinclair Family McDonald's stores were central to supporting the cause of Ronald McDonald House Charities Perth.
As always, the volunteers and members of the Rockingham Flames put on a great event with a relaxed family vibe. This is one of the reasons we l've supporting the club and have been a sponsor of the Rockingham Flames for two seasons now.
For more information about the Rockingham Flames events and SBL fixtures, check out their website by clicking here. If you would like to see a Green Screen Photo Booth at your event, drop us a line to see how we can help bring your event to like with a photo booth in Perth.