At Adept Photo Booths we like to believe that our dedication to continuous improvement, and to our clients, sets us apart from most Perth photo booth hire companies.
Our thirst for knowledge doesn't stop at a quick Google search, we like to take our pursuit of knowledge national, even global, to make sure that when we answer your call we can deliver the best experience available.
A committed to delivering the latest cutting edge technology to the Perth Photo Booth hire market and corporate activation space is nothing new. We have attended every BoothCon event to date, the Australian equivalent of Photo Booth Expo (PBX), of which we were the only Western Australian based photobooth company to attend the 2017 PBX event.
PBX is the world's largest gathering of photobooth business owners, manufacturers and industry experts. The fourth event of its kind, PBX has quickly become the industries marquee event to launch the latest technology and innovations on the world stage.
After seeing the latest releases for 2018, here are our top three activations that we feel will add the most value to the Australian Market over the next 12 months.
GIF Booths 
GIF's are not particularly new technology, however they are a marketer's dream as the most practical and common way to consume them is to upload them to social media channels.
A GIF Booth creates a series of images, either multiple static photos or a burst of images, that form what can best be described as a movie style loop. These images are then compressed and play repeatedly in a loop or what is called a Boomerang GIF which plays backwards and forwards often creating comical short 3 second videos.
In most cases, user will send their GIF's from the GIF Booth to their phone either via email or SMS which provides a perfect data capture mechanic.
The branding options are endless for this extremely shareable content which makes GIF Booths a popular tool for corporate events where social reach and exposure is a priority.
All of the data and metrics are reportable via our software for the activations as we are just as interested in the results as you are to ensure that we are delivering on our clients objectives.
Mosaic Event Activations 
Perfect for professional sports clubs, charities and other large formal events, Mosaic Event Activations provide a platform for users to contribute to a larger artistic outcome with their individual photos.
This technology can either be applied as an overlay on top of the images of people or a green screen can be used to have the users image appear on top of the image.
In the example below you can see the Las Vegas sign being applied with users images which highlights just how effective this style of activation can be for a logo or message reveal at an event.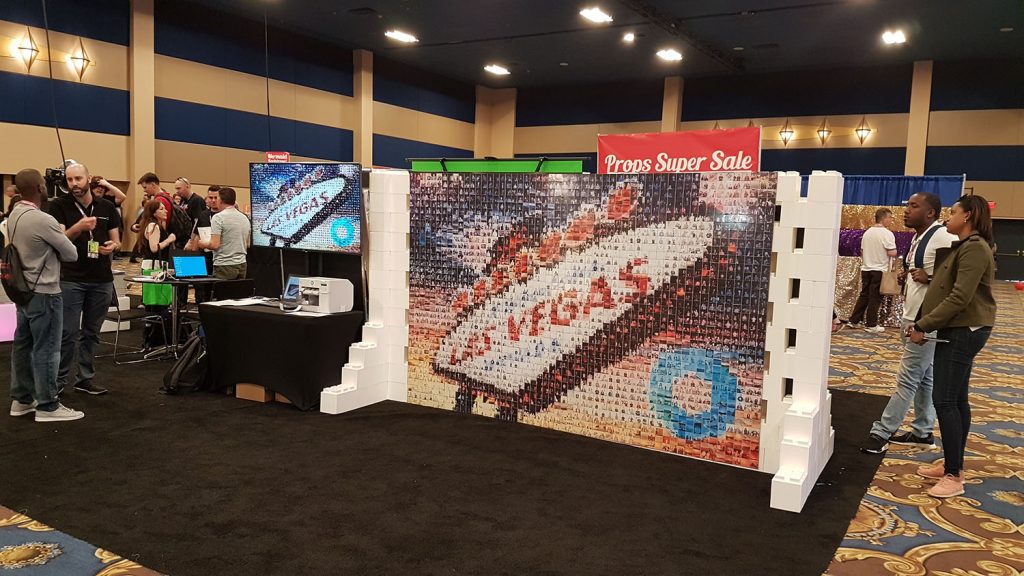 The images for the Mosaic can be accessed via a photo booth, or extracted via a hashtag from Instagram or twitter which adds to the viral nature of the activation and allows people to participate at large scale events across multiple locations.
360 Degree and Array Activations
Out of PBX this year there were a number of Array options and 360 Degree products on display that delivered a 'wow' factor via freeze frame still shot or slow motion effects.
This technology allows users to get a Hollywood experience and like the Gif Booth, is extremely sharable content via social media.
This content is so cool that people will be sharing and commenting well after the event has passed delivering powerful reach beyond the event itself.
How can I get access to these cool photo booth Activations?
All of the above elements are tools to help unleash the potential of your next brand activation. To ensure that you can maximise your message and receive a return on your marketing objectives, it is important to work with the right people to bring your brand to life.
If you have a corporate activation coming up and would like to chat about bring any of these initiatives to life, we'd love to hear from you. Drop us a line via by clicking here, we'd love to hear more about your event and discuss how we can help you knock your customers socks off with a unique activation.