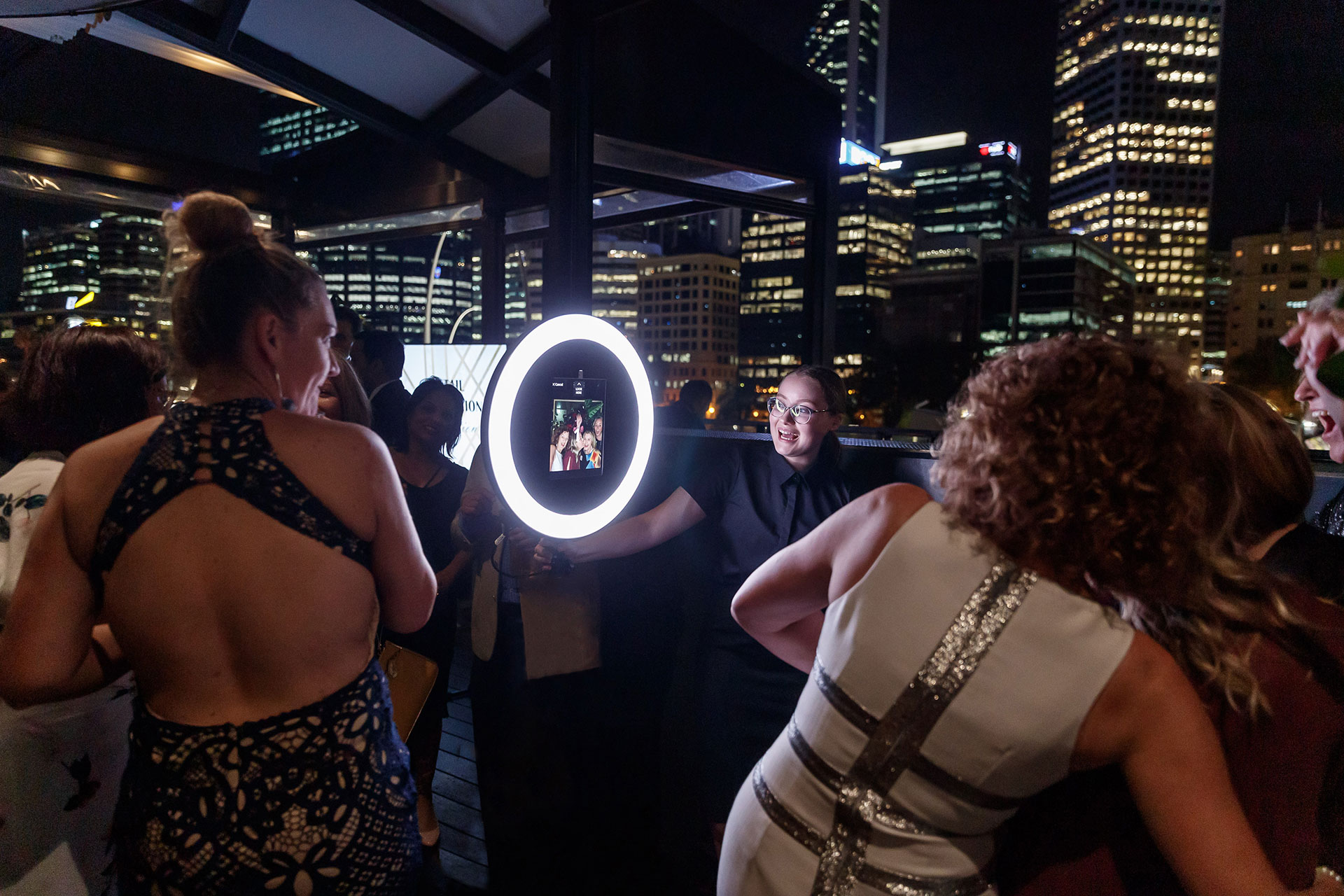 It is no secret how much fun a photo booth can be, but what if the photo booth could move around and go to where the action is?
In a first to the Perth photo booth hire market, Adept Photo Booth now offers a Roaming Photo Booth that packs the powerful, interactive functionality of a GIF Booth into a mobile photo experience that can easily be moved around by our friendly photo booth hosts.
The Perth Roaming Photo Booth has all of the cutting edge features that you would expect from our leading Perth Gif Booth range with a digital props, branded microsites and of course the distinctive and beautiful ring light being carried around the event by our friendly and engaging hosts.
Corporate Photo Booth Hire
This new product offers unprecedented flexibility for corporate events where you can have the Perth Roaming Photo Booth positioned at the pre-dinks location and then move inside to the main event effortlessly.
The Roaming Photo Booth can move from table to table to engage your guests and provide a branding opportunity for the event as guests can share instantly to social media after receiving their instant email or SMS of their photos or GIF.
Wedding Photo Booth Hire
Wedding Photo Booths are becoming a staple and Perth Weddings these days. The offerings available now including beautifully handcrafted Vintage Photo Booths, Flower Wall Backgrounds and modern GIF Booth's which are certainly raising the bar, however traditionally have been fixed to one location of the reception.
The Roaming Photo Booth provides the perfect addition to your classic photo booth, or can replace it all together, to provide the perfect ice breaker when the bridal party are getting their professional wedding photos done or get your photo booth right on the dance floor when the party gets started at your reception!
Brand Activation Photo Booth
Our Perth Roaming Photo Booth can bring any event to life from a packed Optus Stadium or RAC Arena to a small networking event. A Gif Booth lets users share your message far and wide as they receive a branded email or SMS with a link to down load their branded photo of their experience. the data capture capabilities and branded content created are only limited by your imagination.
For more details on the Perth Roaming Photo Booth functionality and output, check out our Perth Gif Booths page for details or shoot us a note below to learn more: